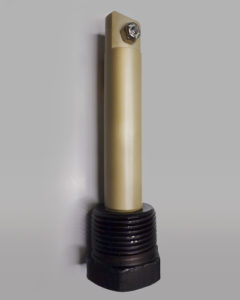 EnhanceCo provides a variety of corrosion coupon holders for various applications including fixed, retractable, and stress racks. Coupon holders may be used in systems up to and including ANSI 900 series (2140 PSI).
Fixed corrosion coupon holders are normally fabricated from carbon steel and are available as 1" or 2" threaded plugs and may be modified to accept sessile bacteria probes. Alternative materials may be special ordered.
Retractable corrosion coupon holders are generally constructed 316L SS with 3/8" retractable rod and customized packing gland with safety lock. Standard lengths of retractable rods are 18", 24" and 36" but all may be modified to customer specification. Each rod as an additional welded safety lock to prevent the rod from exiting the packing gland. All units are supplied with safety chain for additional safety. High pressure ¼" needle bleed valves are standard.
Connections normally are designed for 1", 1.5" or 2" NPT threads or ANSI flanged, while customized fittings are available to meet customer's application.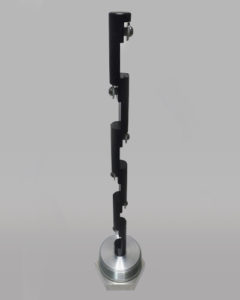 Low pressure coupon holders may inserted and removed by hand while a retraction tool may be used for high pressure applications. As a guide, with a 3/8" rod insertion/ retraction pressure is approximately 10% of the system pressure. (500 PSI system = +- 50 PSI on coupon rod)
Standard insulators are fabricated from Teflon with additional materials available based on temperature and or velocity. Insulators are interchangeable between rod, flat or disc corrosion coupons. Insulators may be exchanged in the field with minimum disruption to the system.
A specialized system has been developed to provide stress corrosion coupons for specific applications. Contact us for details for fabrication and materials.
As EnhanceCo provides equipment to both the domestic and international market; safety and quality assurance are of primary concern. All parts are constructed to exacting standards. Hydrotesting may be ordered by the customer after fabrication.
For pricing and further information please contact us at: www.enhanceco.net, rust@enhanceco.net or 281 499 4426.